Saint Barnabas Orphanage & School:
A Campaign for a Permanent Lunch Location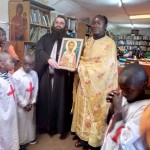 Saint Barnabas Orphanage and School give children a healthy start and a reflective journey of life while being nurtured into successful individuals. They are offered an opportunity for education while helping to protect them from unhealthy indulgences and corrosive contamination. By transforming the lives of these children, a stable base upon which they can be lifted to successful heights in life.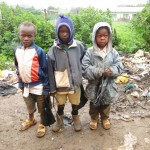 Founded in 2007 by Father Methodius and his wife, Everlyn, Saint Barnabas Orphanage started around a lunch table. While eating lunch at their home, Father Methodius observed three orphaned children who were eating scraps of food nearby. Feeling bad for them, they invited them in to have lunch with them. With that lunch, a tradition was born in which these children started to come to their house every day for lunch.
Father Methodius decided to hire a young woman to come and stay with these children in a rented room. There they could spend the day and play outside. Soon afterwards, Father Methodius and Everlyn learned of other needy children and orphans that were living in the area. They began to take in more and more children as they gained support from the Church and other well-wishers.
Today Saint Barnabas's mission has 13 volunteers that are providing care for 175 children. Currently 12 boys live in a one-room shack. The remainder of children arrive on a daily basis for classes where they learn to read, write and arthrimetic.
The Dream
Father Methodius and Everlyn would like to provide a home to 50 orphaned children. The current living situation cannot support that many children. However, an opportunity has presented itself that can help them move to the first phase of the dream. A local couple can no longer live in the area due to wife's poor health, which has been negatively affected by the weather conditions. On the recommendation of her doctor, she must move out the area. Knowing Fr. Methodius has been praying and looking for land on which to situate the orphanage and accommodate more children, she offered him the two acre property at far below what it is worth.
The Opportunity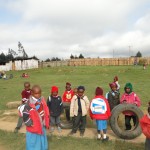 The full market price of two acres of land with a house is $90,000 ($45,000 per acre). The owner is willing to sell the property for a total of:
$25,000
This opportunity is only available for a short time. It would allow them to double the number of children from its current 12 to 24. The home can easily house that many children. Twenty-four children who have no home, can have a bed to sleep in, food to eat, and a place to play and learn.
Won't you please consider donating to Saint Barnabas Orphanage and School to help them achieve Phase One of their dream – A Campaign for a New Lunch Location?
http://https://youtu.be/DrGYDZ0mQeA
Watch the video to see the land and the home. Listen to Father Methodius' speak of the possibilities and join in him furthering the mission of Saint Barnabas Orphanage and School.
Donate towards this wonderful property purchase. CLICK HERE TO DONATE