How Much one needs to Start Evangelizing in Africa.
My daughter Christine (above) holding prayer ropes ready to be handed to newly illuminated today by Fr Siluoan Chris Brown
Glory to God for all things.
So, how does one become a missionary to Africa? It must cost a fortune, over 1500$ for air ticket from Europe or the Americas! It can be impossible then!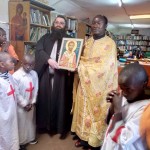 No. No. You could be wrong. You can be a missionary from the comfort of your work desk or coffee table. You ask how? Yes. It could be as little as 5$ to enable our faith have actions. Our acts of faith include and not limited to CARING FOR ORPHANS. through this missions we are able to reach out to many people.
Please to take part in this mission follow the link below
www.orthodoxmissionkenya.org/donation-details
By; Fr Methodius JM Kariuki