South Kinangpop, Kenya's Vulnerable Could Receive their Dream Home
Of the eleven recently baptized Christians in South Kinangpop, Kenya reported by Orthodox Africa and Pravoslavie.Ru, the author's family is blessed to have sponsored twin boys; Moses and Maurice. Photographs of these young ones in their baptismal robes, standing with Fathers Methodius and Silouan, evoke conflicting emotions of sweet joy, and desperation. For their eyes speak of deep suffering, the kind that causes the soul to retreat; leaving behind a sad, vacant stare.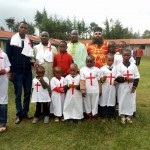 Moses and Maurice attend St. Barnabas' Orphanage for day school, where they also receive meals. However, they return home to their mother afterward, who struggles with dependency; and subsequently, neglects her boys. Currently, the orphanage is operating at maximum capacity, and cannot receive new orphans into its home; so, its director has established a relocation fund to provide housing for more orphans, like Maurice and Moses.
St. Barnabas Orphanage and School were founded in 2007 by Father Methodius and his wife, Everlyn, when they were having lunch and noticed three boys watching them with hungry stares. They invited them to eat with them and soon it became a tradition. More orphans found them; and with community support, and the blessing of their ruling bishop, St. Barnabas now serves 175 children. The orphanage, however, is a small "shack" which houses only 12 children. Knowing this, someone has offered to sell them their home on two acres, for almost a quarter of the market price; $25,000. This property, if purchased, would instantly double the number of orphans that would be housed. With two acres of fertile land, they could expand the home, build a chapel, and still have room to grow food. This would strengthen the Orthodox community, and improve the orphans' lives immensely; hopefully Maurice and Moses' as well.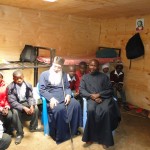 The need is tremendous, but as grandma would say: "How do you eat an elephant? One bite at a time." One contribution from multiple donors, can provide the necessary funds for St. Barnabas Orphanage and School to purchase their dream property; property that would afford them more self-sufficiency and housing ability.  More information on St. Barnabas can be found at Orthodox Africa here, and donations to this orphanage can be made here.
 By:    ~Kent & Amber~