The weather has turned chilly at St. Barnabas Orphanage.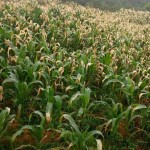 Located at approximately 2600 km above sea level (8200 feet), coats and hats are regular clothing.
Just as the corn crop started to gain some height, an early frost has caused damage to the crop. With drought in other parts of the country affecting cro p production, food availability is low and prices are very high. A failed local crop is disastrous! I really feel tears in my eyes because I know what this means. I do not want to imagine food prices getting any higher. We are already crippled.
Pray that God will bless all with sufficient rainfall and sunshine to produce a sufficient yield. Pray that we may have fruits for the peasant farmers work.
Help us to remember that "…not a single sparrow can fall to the ground without

[our] Father knowing." (St. Matthew 10:49)

Lord have mercy on us. Amen.

Please find it in your heart to help us get meals for the children under our care.

To help us with donations to buy food for the orphans Please check the link below

www.orthodoxmissionkenya.org/donation-details

more photos,