It's so cold! You hurry into your home, a plywood, barnlike structure, and sigh with gratitude that the wind is at least cut off even if you still have to wear your hat and coat. At least it is better than sleeping in the cold garbage‑strewn streets of Kibera slums outside where some of the others have to find what shelter they can . . . wherever they can, so they do not freeze to death overnight. You might ruefully smile to yourself if you knew that many people do not know that Kenya gets so cold during the winter. Rumbling. Just your stomach.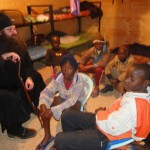 You are a growing 9‑year‑old boy. There is no money for more food. They feed you what they can. They have so many kids to take care of but you are glad you have more than you used to, at least. And good friends too. They live with you in the plywood room, sleeping in metal‑framed bunk beds. At least you are together.
"Together" is a word we do not take for granted in the Orthodox Church. In our theology, we recognize the concept of the old Russian saying that we are "Saved together, but damned alone." Even the Trinity—Father, Son and Holy Spirit—exist in community undivided! This is an icon and pattern for our own existence. We were never created to be alone, cut off from the community of others. None of us. Taking this concept in hand, Orthodox Africa has partnered with several nascent Orthodox missions near and in Nairobi, Kenya, to assist them in spreading the Gospel of Christ. As we are meant to be the hands and feet of Christ on Earth, we take this responsibility of "together" very seriously. Recently, our own Father Silouan Brown (ROCOR monk) left for the unknown and followed God's command to spend a month in Kenya seeing how our Kenyan Orthodox brothers and sisters in these missions live day to day, what their greatest needs are, and how we at Orthodox Africa can be of the greatest service in helping them become self-sustaining groups. One of the greatest delights Father Silouan had not long after his arrival was attending the baptism of eleven new catechumens into the Orthodox Church! He was asked to be godfather of six of the children, including Panteli, the infant son of one of the Kenyan priests!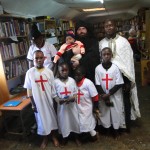 They are singing a song as you walk around the baptismal font. You like to sing in church about Jesus. This is a song you did not know before . . . "As many as have been baptized into Christ have put on Christ! Alleluia!" You were told that this song is from the Bible: "You are all sons of God through faith in Christ Jesus. For all of you who were baptized into Christ have clothed yourselves with Christ. There is neither Jew nor Greek, slave nor free, male nor female, for you are all one in Christ Jesus. And if you belong to Christ, then you are Abraham's seed and heirs according to the
promise." Galatians 3:26-29 Berean Study Bible.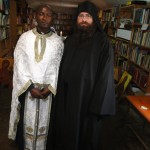 Community. No matter how far or near we are in distance physically, spiritually, we are all one in Christ. And we are all humans together. There are myriad opportunities to be a part of community in our parishes, neighborhoods, and families. This is an opportunity to extend the concept of community to those who are geographically removed in utterly destitute circumstances. This can be through prayer, financial contributions (www.orthodoxafrica.org or  www.orthodoxmissionkenya.org), visiting when team missions are ready (more about that in the near future), sharing the information on your social media, and telling your friends, family, and parishes about the work Orthodox Africa is doing in support of these missions. Please remember, we are all in it together!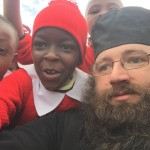 With love and gratitude in Christ's service,
The Team at Orthodox Africa +