On an early Kenyan morning in May at the St. Barnabas Orphange, Father Methodius woke up with one mission on his mind – to say goodbye to the many children he cares for there, and head to America.
There is always a bit of excitement and culture shock when we travel to another country. Beyond the language and food, there are many unexpected aspects one notices.
Father Methodius couldn't sleep that night, the time difference being what it was. He noticed each driveway had more than one vehicle, and there were not many high security, gated communities. He wondered how people shop for food, being as he did not see any butchers, or bakeries. It was strange to see how "everything" was for sale in the supermarkets, all together. But also on his mind were the children back home, and whether or not he would be able to be successful in his mission here of spreading the word of Orthodox Africa and raising money needed for the well and clean water at his orphanage.
One major difference he noticed was how here in America, time is money and schedules are followed. Back home in Kenya, they follow a different sort of rhythm. One where things "happen when they happen". But having to adhere to the schedule was part of the plan, and Father Methodius visited churches in DC and Texas, meeting with Christian brothers everywhere he visited. They made him feel warm and welcomed, his home away from home.
Most precious to him was his meeting with Met. Jonah Paffhausen. This meeting provided him with edifying spiritual counsel that he already misses having. The Mexican meals will also be missed!
It was at the Holy Cross Hermitage in West Virginia that he experienced the prayerful atmosphere- one so special to him that he returned home to Kenya wishing it wear nearby so he could visit it once a month in order to regenerate his spiritual energy.
He also left a bit of himself there – giving a presentation about the work that Orthodox Africa is doing in Kenya.
Here, an excerpt from his speech:
"In Kenya, the Churches were built by missionary bishops who had to support the priests. Go out find the donations come back to pay the priests and feed the congregations, we have a welfare system. What we want is for the congregations to help their priests…help their bishops. We need to build missions that generate enough income that these ministries can support themselves, support parish activities and support our bishops as they help spread the Gospel all over Kenya. This is what we are doing with Orthodox Africa"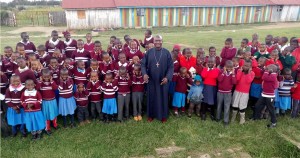 Now back home with the children he cares for so faithfully in the name of the mission of Orthodoxy, he looks forward to cultivating the new partnerships and relationships with the parishes and individual Christians who are eager to become prayer, exchange, and development partners. He eagerly awaits to hear from them. Checking his inbox each day for messages, he dutifully continues to tend to the educational, basic and spiritual needs of the children of St. Barnabas Orphanage.
To partner with this orphanage click here to donate
-Melina Nolte