SEPTEMBER 10, 2017 BY TRUDY ELLMORE
When I see a child whose pants don't cover thin legs & ankles, whose toes have worn through their shoes, or whose skin is chapped and dry from the cold, my heart aches. My mind turns towards a way to help.
There are many charitable organizations to which a person can donate. A good question to ask is "How much of my donation goes to administrative costs?"  It is said less than 25% spent on administrative costs is a good goal.
How much of your dollar donated to St. Barnabas Orphanage & Education Center goes towards providing for the need of a child?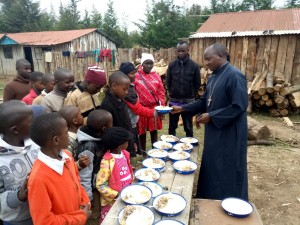 Director, Father Methodius Kariuki, assures his donors that more than 94 percent of every dollar raised fully benefits the child.
94% – Food, clothing, educational resources
6% – PayPal & Bank transaction fees
As much as they are able, local community services help with maintenance or construction needs.  Their local neighbors help where they can, sharing food stuffs, fuel, wood, etc.
Father Methodios assures every donor, "We do not have any irrelevant costs. We have no hidden agenda. We are Orthodox Christians and are fully Pro-Life." Transparency and honesty are of utmost importance. This builds trust in our relationship with, not only our donors, but with our caretakers and teachers. It models the Christian virtues for our children.
What more can a donor ask for in an age that does not value these things? Donate now to St. Barnabas Orphanage and Education Center. Every penny really does count.