Do you remember the four children who showed up on my doorstep asking for help?
As promised, I did an in depth search for information about their lives and families. It led me to more devastating information. The children were facing more and difficult challenges than they had first explained to me. The family of the father who is jailed has 14 children and their mother is bedridden. The children were sent to neighbors. Two of the 14 children are teenage boys and are already into hard drug abuse. Lord have Mercy! The other family is also in much trouble. They have been living on food from a neighbor and, so far, the neighbors are not able to support much. I was so much moved. I don't know how much I will be able to help these families. Nevertheless, I have brought the 4 children in to St. Barnabas Orphanage and School as so many advised me. Lord have Mercy!
In addition to four new children, St. Barnabas also has acquired a bus! By the Grace of God, Archbishop Makarios of Kenya visited us bringing his blessings and love to all of us. He blessed our new bus, our water well and the land where we shall soon move the orphanage to. Now the children will enjoy traveling in comfort in a spacious, unlike in the past when I bundled them in a small van like biscuits in a tin! I am planning to take a group of orphanage children for an educational tour to the Nairobi Animal Orphanage and National Museum on 11th Oct 2018. A total of 780$ is needed for the trip of their lifetime (Fuel cost 200$; Park entry fee 300$ for 40 kids; and 280$ for lunch and snacks for kids). Your kind contributions will help this trip happen. Donate here. And you can join us in spirit and prayer!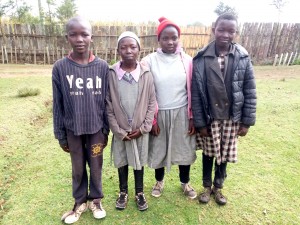 In Christ service
Fr Methodius JM Kariuki